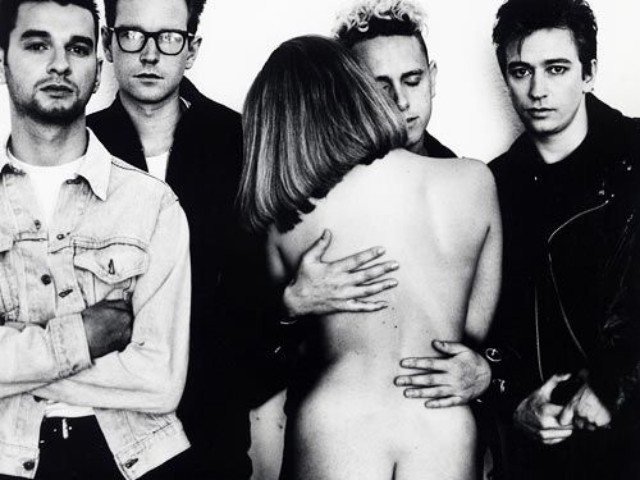 Anton Corbijn | loneliness is a skill
November 14, 2014 eleventh issue

Anton Cobain (Anton Corbijn), is currently the most famous rock photographer.


he is good at shooting black-and-white or monochromatic photos, creating across movies, graphic photography, album cover design, music videos, and so on.

the love of rock music is transformed into the most direct image creation energy.

many movie stars, rock bands, and legendary musicians such as U2, Depeche Mode, Joy Division, Bob Dylan, Echo & amp; The Bunnymen, Nirvana, David Bowie, Bryan Ferry, R.E.M., Peter Murphy, The Rolling Stone, The Valent Underground competed to work with him without reservation under his camera.

Rock is not only a form of music but an attitude and philosophy of life

Anton Corbijn grew up in a religious family in the Netherlands. His father is a Protestant church pastor and his mother is a nurse. When he was a teenager, he was a tall, shy, music-loving child. His photography career began with his desire to get close to the stage.

over the past two decades, there is no doubt that Anton Corbin is the most famous rock photographer in the circle.

U2 lead singer Bono once commented on Anton's visual works, saying: "sometimes Anton can give you something you may not have at all." If any photographer deserves the reputation of "image creator", it should be Anton Corbin.

in addition to the hard-shot photographer, Anton Corbin has another identity-- music video director. However, at that time, he was not ambitious to make a two-way development. From photographer to his career as a music video director, it turned out that he did not have a plan. "because the musicians for whom I took pictures lobbied me to make music videos for them." That's what Anton said. From then on, Andong opened another door for his visual artwork.

the second round of The Work Of Director series DVD, after Iron Triangle Spike Jonze, Chris Cunningham, and Michel Gondry, includes Anton Corbin's music video collection. Compared with the other three directors of the production, such as Mark Romanek, Jonathan Glazer (Jonathan Glazer), and Stephane Sednaoui, Anton, there is no doubt that it is much more legendary and has a high status.

Anton Corbin's The Work Of Director is a summary of his music videos from 1983 to 2005.

Photo

when he was 17, his family moved to another city, where there was a concert by a local band. "I was eager to see it, but there was no one with me. So I took my father's camera and gave me some excuse to go somewhere. I took some pictures and sent them to the newspaper and published them immediately. "

A critical step

initial success leads to greater success. With more concerts, the major newspapers in the Netherlands soon published his picture regularly. Over the next few years, he failed to complete his photography study in the Hague and worked as a photography assistant for eight months, before moving to London in 1979. The music of Joy Division convinced him that he had taken a crucial step. He loves their music so much that he thinks he should follow them. His first photos in the UK were of Ian Curtis's Joy Division band at the front desk. The picture first became famous after Curtis's death. This photo was shot to fame after "the death of Curtis".

long and outstanding experience

Anton Corbijn has a wide range of creativity. His resume is long and impressive. Over the years, he has filmed various CD covers, music videos, books, posters, and exhibitions. By the mid-1980s he set up a company to produce his videos and films.

Corbijn's main works have been compiled and published in four books; most of their works were filmed in the 1990s. He loves 33 Still lives-a a virtual documentary he calls\ & quot; world celebrities\ & quot;. Judging from the current trend of shooting celebrities, he feels that he has lost his identity and become too old. His style of shooting celebrities is based on their understanding and recognition, and he hopes that they can play their different roles. Photos are like imaginary movie stills.

what does Corbijn want to achieve more?\ & quot; I have a dream\ & quot; he explained.

I want to take an impression of Holland. If I often mention in the interview that one day he will become a reality. He said shrewdly.

get inspiration

so what drives this man to continue to travel the world after nearly 30 years, photographing celebrities? quote; contact with these people motivates me and inspires me. I have made a lot of friends through my work. Making friends is a slow process. It takes time to build relationships. It could be a lifetime. I have many friends who have known each other since the beginning of their careers, and we are still working together.

the longest and most famous relationship with Anton Corbijn is with U2. They first met in 1982, when Corbijn shot the covers of six albums for them. The best-known albums are "Tree of Georgia" (Joshua Tree) and "pay attention, Baby" (Achtung Baby). Two completely different styles.

Anton Corbijn met Depeche Mode, in 1986 and they have worked together ever since. As a result, he was asked to design the stage for their 1995-1996 quot; Faith Tour & quot; Tour-a a huge task, including setting up two stages to show 11 scenes. He has produced most of the band's materials since 1986, including graphic designs for 17 videos, 5 albums, albums, posters, press photos, etc. \ & quot; strangers-Depeche Mode\ & quot; contains a large number of these unpublished photos.

Genius opens the door

but how does Anton Corbijn manage to get these busy stars to open the door so that he can be so casual? Part of the reason is undoubtedly Corbijn's photographic genius. Genius is respected, and Corbij is a respected photographer.

however, genius alone is not enough to make people successful, and people can't help but wonder how far it would be if all the compliments were gathered in one, Anton Corbijn. But he never showed any sign of it.

another part of the reason is almost certainly his personality. Anyone who comes into contact with Anton Corbijn will feel that he is a humble and friendly photographer, very leisurely, even if he is given very little time. He is a person who likes to deal with people, whether he is a celebrity or not.

for music fans in the Post-Punk era in the 1980s, there is no doubt that Anton Corbin's photography was so impressive and vivid that he was a very Cult photographer in the eyes of music fans.

for example, he shot the cover with human body lines for the two albums of late electronic musician Fad Gadget Under The Flag and Gag, the cool profile of the Liverpool psychedelic Post-Punk band Echo & amp; The Bunnymen album Songs To Learn & amp; Sing, the boundless scenes of U2's The Unforgettable Fire and The Joshua Tree, and a number of breathtaking photos of him crossing the knife for Manchester City's Post-Punk legend JOY DIVISION in his early years. Under Anton's lens, there are often black-and-white or monochromatic low-key aesthetics, which seem to precipitate a meaningful contemplation space.

Anton Corbin, a tall 50-year-old born in Stryant, the Netherlands, moved to London in 1979 because he was deeply infected with Joy Division. From hard photos to videos, Anton's MV works are always so unique.

his coarse-grained films with Super 8, slow pace, low-cost production, and symbolism are all different from the glamorous and grandiose mainstream of MV in the 1980s. In addition, his fondness for desert and wilderness scenery and the atmosphere of a little road movie show the strong style Anton.

Anton Corbin's maiden music video shot MV, for a Hockey for them in 1983 at the invitation of the German New Wave band Palais Schaumburg, but he always regarded it as his pilot work. Among those who saw this MV at that time was Paul Morley, of the British brand ZTT, who admired Anton so much that Anton directed Dr. Mabuse, the work of their German electronics group Propaganda, which was Andong's first "official" MV work. In the same year, Japan master David Sylvian watched Dr. Mabuse's MV, on TV and then asked Anton to make a short music film for his first single Red Guitar. The posture of his music video director has spread like wildfire ever since.

over the years, Anton has worked most closely with U2 and Depeche Mode (in fact, he also worked closely with Echo & amp; The Bunnymen for some time). He has even acted like a designated video worker for DM.

you can see that Anton is almost in charge of DM's MV, since the 1987 album Music For The Masses. He is also the official producer of stage projection videos for DM touring. In addition to short films, he also shot feature films for DM, such as Strange (1988), Strange Too (1991), Devotional (1993), and One Night In Paris (2002), all of which were written by Anton.

strict selection of short music films

in its The Work Of Director, it mainly selects 24 short music films produced by Anton Corbin in the past 21 years. From Dr. Mabuse, his official debut actor Propaganda in 1984, to All These Things That I've Done, which was filmed in 2005 for The Killers, a new generation of New Wave () band in Las Vegas.

Anton Corbin's early works, Propaganda's Dr. Mabuse is mysterious and suspense, David Sylvian's Red Guitar captures the aesthetic and calm poet and singer temperament of "the most beautiful man in the world," but Seven Seas, who was the director of Echo & amp; The Bunnymen in the same year, can be so easy and interesting. Back in the 1980s, Anton was once a royal photographer for The Bunnymen, watching a short The Game cross-knife film for the band. The Bunnymen was touring Brazil at that time, and Anton also filmed the MV locally in the form of a semi-documentary.

admittedly, Anton's most gripping film of all time is a musical remade for the Joy Division classic Atmosphere through Super 8 when it was re-released in 1988, eight years after Curtis's death, by a group of children and dwarfs in monastic clothes (these people in monastic clothes have already appeared in Dr. Mabuse-does this have something to do with Anton's father being a missionary?) Carrying Anton to take photos for Curtis and JD, it is also meaningful to mourn Curtis under the appeal of black-and-white films. Another musician who committed suicide was Kurt Cobain, Nirvana's 1993 work Heart-Shaped Box MV, which was co-produced by Kurt and Anton, all from Kurt's creative ideas (Kurt's hand-painted storyboard is published in Booklet).

the two major customers of Anton. U2's One (that is the Director's Cut version) featured Bono's father in pink ink, while the impressive "pretty girl" look of four; Electrical Storm featured drummer Larry Mullen Jr and the Mermaid in a wet and passionate performance. In the past, Anton shot as many as 14 MV for DM, and the five songs strictly selected here are of course representative. In-Enjoy The Silence, Dave Gahan, who walks around the Swiss plateau in imperial clothes, is the most impressive, Walking In My Shoes Dave like the devil, but he can also play a nightclub band dressed in vulgar costumes in It's No Good.

Anton's music short films are not only dominated by cool words, on the contrary, there is also no lack of his humorous side. Even musicians can "pretend to be a ghost and a horse" for him, such as Ian McKucci (Ian McCulloch) as a woman, Will Sergeant as a fish, and Les Pattinson as a penguin in Seven Seas. Metallica's Hero Of The Day is interspersed with bands playing video game shows, news anchors, and westerns. In addition to playing the role of the popular "Red Man" in Liars, former Black Flag singer Henry Rollins also played the role of Jonathan Donahue, a policeman, and Superman Mercury Rev, as an astronaut in Opus 40. For the time being, The Killers All These Things That I've Done has put aside his appearance and turned into a western cowherd. Even Anton doesn't forget to make a cameo appearance, such as acting as a nightclub emcee in DM's It's No Good.

Get ready to showcase your unique figure and charm in our wedding dresses for older brides 2nd marriage . Enjoy your shopping experience as well as our friendly and helpful customer service and fast shipping.

in addition to The Killers, Travis's 2003 Re-Offender, film focuses on the story of their infighting and discord behind the stage, and the band performs in black and fight all the time.

in addition to The Killers, there is also a 2003 film by Travis that focuses on the story of their infighting and discord behind the stage.

beads of the sea

The stuff part (that is, Bonus), has some Anton films. Like his first director's work, Palais Schaumburg's Hockey, in 1983 (but Anton only has a copy of his VHS), he has seen his sense of humor from the interesting shooting practice of the 1980s new wave band MV. Another legacy is the essence of MV filmed for the 1988 album Front By Front of Belgian EBM pioneer Front 242.

in addition, his film Some Yoyo Stuff, for psychedelic musician Captain Beefheart ('s real name Don Van Vliet) is supported by David Lynch, there is also a special feature of U2's Electrical Storm, and his MTV Promos short film for Beck and Dave Grohl is also very interesting (the latter has its hilarious performance).

not to be missed, and the documentaries directed by Lance Bangs for Anton NotNa, include Iggy Pop, New Order, Ian McCulloch (Echo & amp; The Bunnymen), Bono (U2), Dave Gahan (Depeche Mode), Martin Gore (Depeche Mode), Michael Stipe (R.E.M.), Claudia Brucken (Propaganda), Kurt Cobain (Nirvana), Lars Ulrich (Metallica), Herbert Gronemeyer, Joseph Auther, Fran Healy (Travis) and even Neil Spencer (NME editors) and other friends in his circle.

of course, the most exciting work Anton Cobbin has been waiting for in recent years is his 2007 music biography "Control" for Ian Curtis, which is based in part on Curtis's widow's 1995 book "distant Touch" (Touching From A Distance). The film has been widely recognized as the director's debut of photographer Anton Cobain, and it is also the first official feature film of Sam Taylor Wood, one of the most important contemporary artists in Britain. "Control" also did not disappoint and received rave reviews at the Cannes Film Festival.

often ignore the destruction and narrowness of life itself in the mediocrity of every day,

until I see the new wrinkles fill the cold and crowded heart. When

echoes the gloomy tone of reality,

feels the pride hidden by his pleated glow on the devil's face.

the exact overlap between the disease entity and the patient's body

is only a historical and temporary fact.

their encounter is only self-evident to us.

or, more accurately,

We are only just beginning to look at this encounter objectively.

physical pain interprets its starting point metaphorically, while the dark tumor rooted in the heart is caused by some one-sided scenes in dreams,

organized into unpredictable cues for a lifetime.