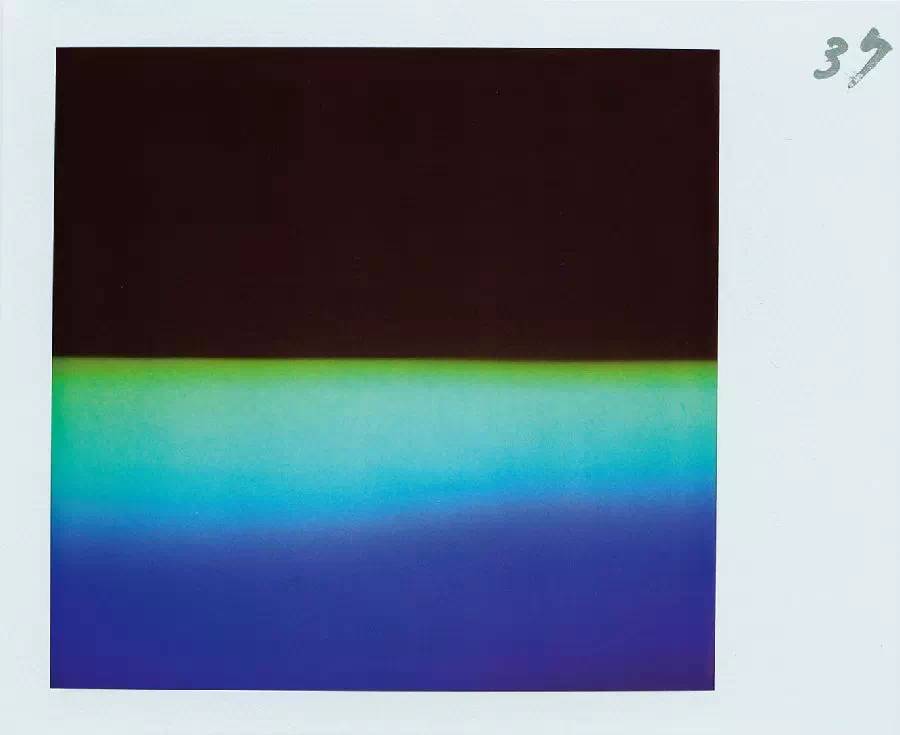 Hiroshi Sugimoto × Herm è s: colors that cannot be named
Please add Sina Weibo to submit the proverbs for the 55th issue of Jan 23, 2014: @ _ miss absentee reprint please indicate in the title and inside page that the provenance comes from ASI.

Hiroshi Sugimoto

Hermes "the world is full of infinite colors, but natural science defines the world as seven colors. Therefore, I think it is in these abandoned colors that we can realize the existence of this world. " -- Hiroji Sugimoto

Hiroji Sugimoto spent ten years working on an installation called Shadow Color, which he used to observe light in the winter from late 2009 to early 2010. He would get up at 05:30 every morning to observe the dawn in Tokyo, waiting for the first ray of light to pass through his prism and project it onto a slender vertical mirror, which, after being reflected again, would be broken down into bright colors on the white wall. Then he would use an old Polaroid camera to photograph the gap between color and color.

in the course of this art project, Pierre-AlexisDumas, artistic director of Herm è s, visited Sugimoto's studio and came up with the idea of working with Sugimoto to create the third group of works in the "Herm è s Editeur" series.

Herm è s Editeur is an artist's scarf program launched by Herm è s. Dumas wants to praise color through this program and hopes to work with artists who also have a passion for color to make art scarves for Herm è s while challenging their craftsmanship and textile printing skills.

Dumas invited Sugimoto to their factory in Lyon and showed him how to spin silk and print it. In the end, they selected 20 of the 200 Polaroid photos taken by Hiroshi Sugimoto and printed them into square scarves, the name of which is "Shadow Color."

to naturally and completely reproduce the endless color gradients in Sugimoto's photos, Herm è s invented a new method of inkjet printing, a huge new machine, and a new twill silk fabric.

they also adopt a large form in which the length and width are both 140cm, to fully demonstrate the color power of the work and echo the square format of Polaroid.

it took two years from the creation of the idea to the completion of the product, which was unveiled at the Basel Museum of Culture as part of Art Basel in 2012. Dumas hopes that the public can see that these products can be collected as works of art, but at the same time, these works of art can be worn.

Hiroshi Sugimoto × Herm è s: color of Shadow, Basel Museum of Culture, 2012

the art project "Color of Shadow" is almost a work that never ends, because observation can last forever. and between colors, there are always all kinds of colors that can't be named.

polarizing color, a ribbon produced by dispersing light through a prism, and the inspiration for shooting

with a Polaroid camera come from Sugimoto's thoughts on Newton's "Optics" and Goethe's "on Color". "the way that Newton left us to understand the world is a way of observing the data of nature with a calm and sober eye. Goethe, on the other hand, has the soul of a poet and observes the world as a reflection of man's heart, which is a way to confront nature with passionate eyes. "

but Sugimoto chose another ambiguous look, like the skill of an accessory on a camera. And if there is an afterlife, he wants to be reincarnated in the form of a plant, and then bloom a nameless flower. "No one can see this flower, and no one can name its color."

the article shared below is Hiroji Sugimoto's abridged explanation of the inspiration and concept of the art project "Shadow Color". The full text is included in Hiroshi Sugimoto's work the Origin of Art.

eyes of calmness and enthusiasm

Hiroshi Sugimoto

my installation, called Shadow Color, was completed six years ago in 2004. The production process took a total of four years, and with this and that, this work took a total of ten years. The work that served as the observation device was largely completed, but as the device was completed, the observation began. If the results of observation are part of the work, then it will never end. Because even if I'm gone, the observation can continue.

the kind of observation I'm making now began 354 years ago by Isaac Newton. My device is also an improved version of the one made by Newton at that time, so it's a bit out of my head to call it my work, but this time, I'm making this observation as my re-creation. Whether in the field of science or art, how to inherit the great cause left by our ancestors and lead it to a new level can be called the most advanced science and art. However, modern technologies that are too highly developed tend to make people forget who came up with these technologies in the first place and who discovered them.

Long for a perfect wedding dresses for over 50 that flows around your curves, flattering your height? Just check out our new-released affordable options.

Newton published his Optics in 1704. When Newton got his degree from Cambridge University, the university in London was forced to close because of the spread of the plague in London. Newton returned to his hometown, Woolthorpe Manor in the east of England, to immerse himself in his research. In a year and a half of his life, Newton acquired the first ideas for most of his life's achievements, such as the discovery of gravitation, calculus, and the study of the theory of optics. In the small two-story building of Woolthorpe Manor, he closed the window, made a small hole for daylighting, and set up a prism to begin his experiment on the splitting of sunlight. In this experiment, he found through a prism that the sunlight, which was originally thought to be white, was made up of many colors with different refractive rates, such as red, yellow, and blue. This discovery, like the discovery of gravity, had a great impact on later human wisdom. The influence of. Newton's theory of mechanics was also nearing completion during this period. Whether it is the fall of an apple from a tree or the gravitational relationship between the planets in the universe, for the first time, humans can explain it with the same theory without the power of God. Even now, calculating the distance between distant stars and Earth is based on the color wavelengths of polarized light emitted by those stars.

then the foundation of the natural science-style cognitive method, which is closely related to modern times, has been established, and after such an analysis, the world can be replaced with numerical values.

more than a hundred years after Newton's Optics was published, a book critical of Newton was published in an unexpected field. This is Goethe's on Color. The content of this book on Color should be regarded as a book in which artists are dissatisfied with scientific understanding.

Goethe, as a poet, novelist, and playwright, spent twenty years studying the influence of color on human eyes. Indeed, after Newton's experiments, light is divided into seven colors according to the rate of refraction, and it is known that the human eye recognizes light as color through the visual center. But what does this mean? Color directly appeals to human feelings, and red and blue can produce completely different feelings in people's hearts. Therefore, Goethe argues that numerical mechanical science cannot explain the relationship between color and mind.

moreover, for the first time, humans know that light also exists in the dark. The light passing through the dark world is invisible to the human eye. For example, the earth is surrounded by the atmosphere, and when light encounters dust in the atmosphere because only blue light is reflected, the sky that people see is blue in the first place. I do feel this feeling when I watch the stars every morning and watch the dark sky slowly turn into cyan.

Goethe put it this way in his preface to on Color: "Color is the act of light, and where there is behavior, there is pain." About this sentence, my understanding is that light appears in the form of color after it encounters something that hinders its free movement, that is to say, this encounter can be understood as the so-called pain.

however, it is interesting that what Buddhism calls "color" refers to the material world. It is the "color" of "color is empty". As the existence of "color", the visible world is essentially empty, and emptiness is expressed in the form of "color", that is, the world [emptiness is color]. I use a prism to break down the light into bright colors, and every day I look at these seven colors named by Newton and think about my problems. Red, orange, yellow, green, cyan, blue, purple, have been named colors that can be distinguished. However, there are still different colors between colors. From red to orange, from yellow to green, there are a variety of colors that cannot be named. And what science does is to completely divide the world by naming it? Perhaps the world can be enriched only after it has been named, just like if there is no name of the disease, the disease does not exist. People died of natural causes in ancient times, but now they all die of illness. The world is full of infinite colors, but natural science defines the world as seven colors. Therefore, I think it is in these abandoned colors that we can realize the existence of this world. Today, when the gods are replaced by scientific cognition, isn't the task of art to save this depraved world? So I'm going to use Polaroid film to shoot the gap between color and color in the few days I have left.

I have tried every means to acquire the last stock of the last batch of Polaroid film, which was produced more than a year ago and is now past its expiration date. It is sunny almost every day in winter in Tokyo, and I spend an hour in a sea of colors every morning. The method of understanding the world that Newton left for us is a method of observing the data of nature with a calm and sober vision. Goethe, on the other hand, has the soul of a poet and observes the world as a reflection of man's heart, which is a way to confront nature with passionate eyes.

I do not use either method, but observe it with an ambiguous eye, just like the function of some accessory on the camera. If I have an afterlife, I will not become a Buddha but fall into the whirlpool of reincarnation. People, of course, I do not want to do it anymore, nor do I want to be an animal insect, but I want to be reincarnated in the form of a plant, and then bloom into nameless flowers. No one can see this flower, and no one can name its color.