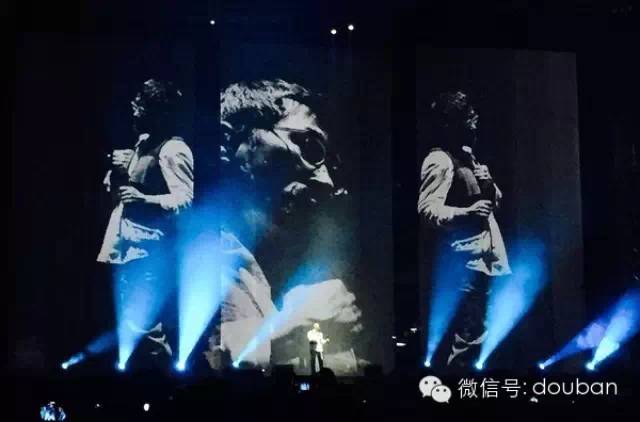 Li Zongsheng: an ordinary poet, singing universal love songs
The important thing is that Li Zongsheng came, sang and left. The emptiness left behind is the echo of his youth and the ripples of fate. Also because, "the world is so noisy that it makes silent people look a little silly." These people can't be underestimated if you give him a guitar. "

"I heard my friend say that Li Zongsheng's performance is very popular and has a lot to do with the aging of our country's population. Today is just a meeting with an old friend, saving a game, and getting everyone here. " Standing on the stage, Li Zongsheng can no longer hide his Beijing accent. Leaving Beitou, living in Shanghai, and going to Beijing alone, the migration between the three cities shaped his musical journey and life track. After two performances in Shanghai, "since you can't stay young, it's better to be an uncle." in addition to sighing and sighing, Li Zongsheng tried his best to create some playful effects to face the difficulties of life. For example, he said that the use of Uncle in Uncle's translation was not very accurate, and it was later determined to be called Dirty old man. "my English is still good." The prelude to, dirty old man blues has just sounded: "Loneliness is unbearable". Singing "the age of 40 is almost over", the uncle wisely tampered with "the age of 60 is coming soon" and wriggled his limbs cooperatively. Compared with March last year, Li Zongsheng, who made a comeback, is more energetic and speaks freely. Like the wretched goldfish guy in Guangdong, he asked the audience, "have you worn long johns?" and joked, "if you listen to which song you can sing, sing along, so that you can remember the feelings of the past. Although the person sitting next to you today is not what it used to be. "


can be observed. When singing "three things about Ah Zong", Li Zongsheng took a deep breath at the end of the paragraph about the son of the boss. Singing "when Love is a thing of the past" every other space, when Lin Yilan's face appeared on the projection screen, surrounded by familiar songs, Li Tsung-sheng, who almost laughed at the whole scene, still couldn't help spitting, exerting, touching his chest, touching his face, and then sighed. Of course, some people will say that the marketing gimmick is just a show. But I always feel that what I believe is what I see. Although it continues the title of "since Youth can not stay", this year's performance has changed a lot of tracks. The three major links of "oneself", "men and women" and "the future" have been removed from "crossing the ocean to see you" and "sad subway" to add "people who race against themselves", "mortal songs" and so on. Li Zongsheng said that he wrote "the Race against himself" for music producer Zhang Peiren, and this song is also dedicated to every young man who has no future and works hard. "Thank you for your hard work, young people of this generation, please refuel a lot." The song, "at that time, we all have a truckload of problems, do not know the meaning of success, is to surpass themselves", for young people, is indeed the truth of the times.

"favorite" is one of Li Zongsheng's most emotional songs. "if beauty is only for a relationship, let her life be for this love, love only one person, and have only one sorrow for the rest of her life." In the end, it was a sad euphemism that touched her heart: "Beauty is inevitably affectionate, but you are the same as me." When chanting this sentence, the second floor of the stage was covered with a narrow room, and Li Zongsheng sat on the bed with a guitar. He recalled: "after I wrote a lot of popular love songs, I began to write songs in many places." In the hotel room, on the road, even in the toilet. But I keep thinking about the little room where I wrote songs. " At that time, Li Zongsheng was still helping his father deliver gas and walked through the smelly night market every day. When I get home, after a day's hard work, my hands will get stiff. I have to soak through Scald before I can start playing the piano. Qin and pen, according to Li Zongsheng's account, are his magic instruments leading to another world.

in that narrow shack in Beitou, Li Zongsheng wrote too many years like songs. Although "at the beginning, I don't know where writing songs will take me." But at that time, Li Zongsheng had the habit of imagining his fate through a window. Before and after the first marriage change, to avoid the paparazzi, Rolling Stone rented a Mid-levels hut for Li Zongsheng in Nakamoshi, Tokyo. Through the imagination born by the window, Li Zongsheng wrote two songs. One is "understanding", and the other is "Lonely Lovers", which he "likes very much". Even if you "swallow a lonely lover and try hard to understand", you will finally find that "trying to love someone has nothing to do with happiness." No matter how many jokes he tells, Li Zongsheng is still the same lover. "the price of love" sang to the interlude, he did not have time to add: "as long as it is true, time will tell you that the price of every love is worth it." Just like the gracious and wretched uncle next door, he tasted his life, tried and made mistakes in love, accumulated some consciousness and expected future generations to "not experience so much as Lao Dou experienced". But the love and hate of young people have always been written by him. "even if you experience the details of this song, it will take years if you want to understand it."

too many people compare Luo Dayou and Li Zongsheng. Luo Dayou is more like a thinker, holding silent anger and cold concern for the times. On the other hand, Li Zongsheng has always known his gratitude and meaning, and there are twists and turns when he writes. The sufferings of ordinary people depend on him to refine. The commonness of ordinary things is up to him. Therefore, there is that sentence, everyone has a song Li Zongsheng. No matter deliberately or casually, Li Zongsheng's songs are the truest. Vague love words are infused with simplicity in his writings. For example, "the focus of all my eyes is on the two arcs of your forehead." For example, "No matter how beautiful the spring breeze is, it is not as beautiful as your smile, and people who have not seen you will not understand." But he also made no secret of the vagrancy of his heart. "Men don't see lotus flowers and begin to feel the beauty of peonies. It doesn't matter who a woman wants to give her heart to. " If this can be regarded as transparent, it is also a relief after having no choice. Why do you love Li Zongsheng? Because his creation, relying on his own experience, rolling in the world, and then condensed into a universal love song.

Coming into the latest trends and fashion, our chief bridesmaid dresses is all you need. Our online shopping simply ensures to make every shopping experience here happy and easy.

Encore part, Li Zongsheng, 57, rushed onto the stage wearing a white T-shirt and jeans. When I was 21 years old, when I was a sad green boy, I wrote the song "No one knows": "am I destined to be alone and face the long road to come?" Companionship, pain, loneliness, helplessness. How I wish I could go back to the beginning, go my way, and face the future without fear of losing. " Maybe it was because it was too far away from the stage and the appearance was blurred. I caught a glimpse of the teenager in a trance. Looking back, Li Zongsheng said, "when I want to dedicate it to this, "It is not easy to replace the young people. Confusion is the patent of young people. Make good use of it. " The audience rewarded him with the chorus of the next song "I am a Little Bird" and the sea of lights lit by mobile phone flashlights.

of course, Li Zongsheng also wilted. In the thank-you part, he said: "as usual, we have come to the most exciting part of the show, the most about the future." Thanks to our sponsors, because they will sponsor again next year. " In this way, I would like to thank Jeep, who has sponsored his tour for two years in a row. The audience doesn't mind. The important thing is that Li Zongsheng came, sang, and left. The emptiness left behind is the echo of his youth and the ripples of fate. Also, "the world is so noisy that it makes silent people look a little silly." These people can't be underestimated if you give them a guitar.