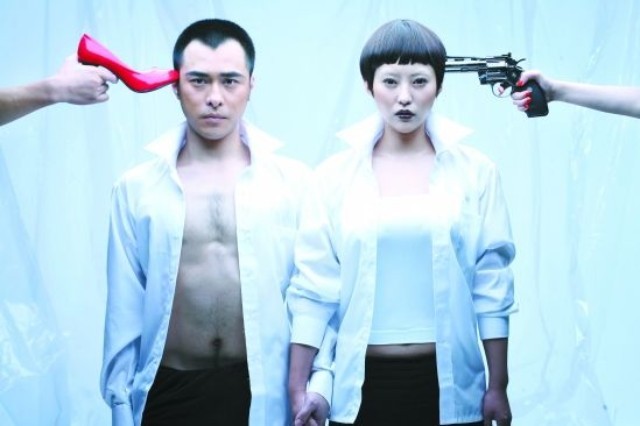 Liao Yimei | "how many secrets a person needs to hide in order to spend his life skillfully."
The eighth issue of "Liao Yimei" on November 10, 2014. I'm sorry I'm late today. I just had time to sit down and sort these things out. I agreed to see you every day.

Liao Yimei, a screenwriter, graduated from the Department of Drama Literature of the Central Academy of Drama in 1993 and is now a screenwriter of the National Drama Theater of China. Another important identity is the partner, sister, wife and mother of director Meng Jinghui. His screenwriter's play Rhino in Love has become the most popular work in the history of small theatre drama in recent years, and the script is included in the avant-garde Drama Archives. The film "Flying like a Chicken Feather" won the Hong Kong International Film Festival than the Western Film critics Award. Other works include the musical play Amber, the children's play Magic Mountain, and the novel the Flower of pessimism.

on November 20, 2008, Rhino in Love spent 200 national tours at the Beijing Honeycomb Theater. Guo Tao, Wu Yue, Duan Yihong, Hao Lei, Wang Li, Yang Ting, Li Naiwen, Liao Fan and other four groups of new and old actors appeared one after another in the live video of the performance, and the pause and alternation of time and space on them was unstoppable; and over the past ten years, what has changed is not only the actors, but also the youth and passion that flows with time, as well as ourselves who are frozen at that moment.

as the screenwriter of Rhino, the tenacious, exquisite Liao Yimei, who was used to raising her head to look at the world coldly ten years ago, has long been promoted to be a mother, but she still lives according to her own rules and plays her cards according to the rules that please her eyes. The second edition of the book "the Flowers of pessimism" is a hit, and "Rhino" has the best part of the tour, but it has nothing to do with her. The immutable words are sharper and colder, the story is still directed at the hearts of the people, and she uses her magical attraction to make all those who have access to her works willingly become captives over and over again; and all this stems from the tenacious force of her heart constantly questioning life.

the word "Liao Yimei" has nothing to do with compassion, because in her opinion, pessimism is the whole background of life. If you want to survive, if you want to mediate well with the world, you have to raise your head, remove all the protection, and bravely persevere to the end. No matter the road or Mingming, Xiaoyou or Gao Yuan, the iconic characters in her works are so thoroughly attached to a certain progressive time of life. Including for love, faith, ideal, or soul itself. Ten years ago, ten years later, in the future, it will still be the same.

"bravery is related to a person's dignity and is a beneficial attitude to people." It can make people more open and less narrow. If everyone was so self-protective, human beings would still be living in trees. The first person to get down the tree must be the most courageous, so all the progress or wealth of mankind depends on bravery. The most basic point of people is that there is no sense of taboos. The more taboos there are, the more dead they will be framed, and they will become more and more stiff. In the end, they can only degenerate. "

"I'm sure everyone has their own homework, and there may be some help, but in the end, everything has to be solved on its own. I often have the feeling that if this thing comes and you don't have the courage to solve it, it will come again. Life is really like this. It will make you do this homework again and again until you learn it. " I wonder if Liao Yimei and her brother Meng Jinghui practiced this set of lessons countless times when she was a student in Chinese opera. At least for now, they are not partial to the subject, and their grades are quite satisfactory.

in the 1990s, the theatre was in much worse shape than it is now. Talent and courage alone are far from enough. Liao Yimei also went to work for an assigned publishing house and wrote flamboyant TV plays for several years, but soon found that she only wanted to do what she wanted to do. "everyone has the pressure to survive, and it's not worth talking about at all! Just like you are complaining that I can only walk but not fly, this is a problem that everyone is facing. It depends on how much willpower you have, and how much willpower a person will achieve. It will always be so. I know that people stand on the mud, this is a fundamental, some people like mud, but I don't like it. This is the essential difference. "

"if I don't have any necessary qualities as a screenwriter, I may be more capricious than others. People can be as brave as "rhinos", even if it hurts, see if you still dare to hurt after it hurts. Most people shrink up after a pain, like a sea anemone, never open again, and end up turning into a stone. If you keep it open, there will be constant hurt, constant pain, but you are still blooming like a flower. " This is where the name "the flower of pessimism" comes from. This time, Liao Yimei told us in words that beautiful flowers can blossom even on hard walls.

over the past ten years, almost every bright-eyed work of Meng Jinghui has been built by Liao Yimei behind it. As husband and wife and partner, the two work together closely and smoothly. "We did not deliberately cooperate, nor did we deliberately avoid cooperation. For example, if I write a book, it has nothing to do with him. I also exist on my own. I can't say I don't exist without him. As for the drama, you can read the script. Meng Jinghui also has a good grasp of the performance of the theatre, which is very good. I am a person who has trouble communicating with people, and he has also found a lot of other screenwriters, but in the end he didn't finish it. Maybe in some ways, we had better luck and smoothness together. I also often talk to other directors about movies and plays. Lin Yihua asked me to write a screenplay, and I also talked with Chen Kaige many years ago. I don't have to write a screenplay for anyone, and I don't have to write a screenplay, because I'm stubborn. But I always get it done quickly with Meng Jinghui, so there's nothing I can do about it, ha. " Her laughter was as clear and sincere, relaxed, and vigilant as the voice of questioning, and there was nothing she could do about it.

married for ten years

"I never have to write one when I get married (" Rhino in Love "). When I have a baby, I write one (" Amber "), all in time. When writing Amber, because the Hong Kong Arts Festival booked the play, it had to be performed and rehearsed, so I was very tired. " Liao Yimei actually resents that her experience is framed in a certain course of life and is liked like a chronicle.Talk happily. Everything took its course, and she joked that she dared to do whatever human beings dared to do. "even if the current living environment is not so ideal, human beings have existed for hundreds of millions of years, and biology must have its own laws. I think it is ridiculous to resist this law in my own opinion. I think I should at least have the courage to see what life looks like, and the happiness he brings to me is that I think I did the right thing and I have no regrets. "

those little women who are interested in talking about this boundless challenge to their imagination must have no time to wonder whether she is equally untaboo in private. As a woman, her happy attitude is unrestricted. "I don't want life to be the same, so I wear everything and all kinds of clothes. I don't have any taboos in this respect. Wearing something is the least risky thing to do. Nothing will hurt you. Meng Jinghui will not always praise me for wearing clothes or anything. He is more conservative than me on this issue. For those who dress up in a unique style, dress in a very avant-garde way, and are very fashionable, his play is not necessarily interesting. "

Liao Yimei, who can spark again and again in the drama, is a very quiet person in private and can hardly go out without going out. "I like sunshine and walking, but now the weather is not so suitable, so I travel every year. Especially like Italy, sunny, beautiful scenery everywhere, but also as chaotic as Beijing, people are very casual and friendly. Iceland is particularly desolate, like the scene of wild times, a vast expanse of volcanic rock, as if no one has ever been up there, but also shocking. " Perhaps getting away from the hustle and bustle is a way to calm the mind, not to banish, but to gather strength from heaven and earth to start anew. Not to mention how proud it is to have the courage to live in your own way-people are still living well. Liao Yimei's resistance to the information age and fashion trends is a bit incredible. "who cares what others do and what they do now? Is it annoying? I never watch TV. Our TV is used by my son to watch cartoons. There is no antenna. I don't think it does any harm to my life. I don't think it's quiet enough. Do you know what those fashionable words have to do with you now? Does it make you happier? Deeper? More insightful? So you have to dare not to know a lot of things. " This is Liao Yimei and her attitude towards survival as a married woman.

Wang Shuo made her a full-time screenwriter

the year Liao Yimei went to college, Meng Jinghui was a graduate student and was a classmate. Ten years later, they became husband and wife. There are complex drama analysis courses in the school, using Chinese and foreign scripts to analyze the subtext in the middle. "I am a good student and have studied very hard, but what I have learned has nothing to do with me. Because those things do not stimulate me, there is a distance from my expression. " Liao Yimei tries to find her own way of expression. At that time, it was around 1990, and the drama was in complete decline, and no one saw it at all, so it was ridiculous to say that he was a theatrical person.

the first person who asked Liao Yimei to write a screenplay was Wang Shuo. At that time, Wang Shuo opened a current affairs and cultural consulting company and ambitious signed a lot of writers, saying that he would act as an agent for all the writers. Also signed a lot of young screenwriters, Liao Yimei is one of them. Unfortunately, the two screenplays she wrote for Wang Shuo were not made because of problems with investment and censorship. Later, Wang Shuo's company also went bankrupt. But since then, Liao Yimei has become a full-time screenwriter. In the years after

, Liao Yimei wrote several movies and TV plays. "I never watch TV dramas I write. I think writing those things will limit your language and even destroy your sense of language. If I hadn't really had no money, I wouldn't want to do it. At that time, I wanted to use language as a sword, and I could hear it waving friction in the air, which could not be done in movies or TV dramas. "

so Liao Yimei's eyes returned to the stage of the play. At that time, Meng Jinghui had been in the experimental drama for several years and was already well-known, but the situation in the theatrical world was no different from that when they were in college.

nothing can stop the birth of Rhino

Liao Yimei married Meng Jinghui in 1999. After her honeymoon, Liao Yimei locked herself in the house to write "Rhino in Love".

at that time, almost no play had a box office. "Rhino in Love" depends entirely on the persistence of a few people, and every link is beset with difficulties, first the problem of investment, then the problem of actors, and then the problem of finding a suitable theater. After several twists and turns, it was not easy to find the old Youth Art Theater in the small alley of Beibing Ma Si, which no one knows about.

Fantasy evening dresses for tall women at fantastic price! Our collections are available in a variety of delectable materials.

but Liao Yimei and Meng Jinghui understand that for them, nothing can stop the birth of the play. Finally, Meng Jinghui borrowed money from a friend and carried it back with a backpack. The two agreed that if they really could not make money, they would send Liao Yimei to write a TV series for a year to pay back the money.

it is true that there were not many audiences in the first scene, but by the time of the 40th performance, the audience was full, from the theatre to the mouth of the hutong, and there were so many people popping up out of nowhere.

this is an unexpected thing. "Rhino in Love" has not only changed people's view of drama, but also changed the state of the whole industry. In fact, it is Liao Yimei's wayward work, there is no plot, although there is a story but not true, the stage is empty, the background is abstract, and the form of performance is completely different. This surprised the audience and did not expect the play to be performed in this way.

now, Liao Yimei and Meng Jinghui are rehearsing "Rhino in Love", new actors, new forms of expression, and a new theater specially adapted for it.

I'm afraid to die because of you

Amber and Rhino in LoveUnlike Liao Yimei and Meng Jinghui, who had been working hard for many years at that time, Amber was born perfectly, so it became a hit after the premiere of the Hong Kong Arts Festival. Like the Rhino in Love, Amber has become a myth. It has been played by the original team for three years in a row, and will continue to do so. This year, Amber became the first avant-garde play to enter the National Grand Theater. After more than a decade of painstaking work, Liao Yimei and Meng Jinghui turned avant-garde into a classic and brought themselves from the edge into the mainstream.

Liao Yimei never avoids her indignant youth, but the stubborn pessimist who shouted "popular aesthetics is dog shit" in Amber changed the original cold ending of Amber into a tender hope that her lover would wake up and stay with her, "because of you, I'm afraid to die"-because she was pregnant.

"the change in the ending brought by my son is a natural feeling. I know that the ending may not be particularly appropriate with Amber, but that's what I wanted at that time. I wanted to have confidence in life and need a sense of warmth."

Liao Yimei, a mother, wrote the children's play "Magic Mountain" as a gift to her then-one-year-old son. But apart from this, she didn't feel that she had changed much. She was the wayward woman who had cervical spondylosis because of her writing.

"Writing is a part of my life. I expect it to be a game, but it's not, it's still very important to me, it's an exit to my life, because I can balance it, and maybe I'll go crazy if I don't write. "




here are some words of Liao Yimei.

these green and childish memories have been stranded in my body, keeping me the appearance of the child, leaving that confused, uneasy and stubborn expression on my face. As long as this expression remains, I have been living in the gap of time. I am no longer young or old. It's time to get rid of this expression and let the lines of time climb up my cheek with peace of mind, I will become firm, calm, and serene, and you will no longer love me, I will be free to grow old, and I will be free from your eyes and free from the erosion of time.

suffocate your self-esteem, abandon the general rules of love, forget the standard model of happiness, peel off these layers of secular calluses that make the Oblivious of the senses, naked, fragile and soft, leaving only love. How painful it is, how beautiful it is, change the color of the sky, the shape of the object, make every breath textured, and life will be different ever since.

everyone is lonely. In our life, encounter love, encounter sex is not rare, what is rare is to meet understanding.

my problem is that I know I'm stupid, but no one believes I'm stupid. My stupidity is not that my brain is not good enough, but that I always choose the difficult side at the crossroads where there are two road signs: easy and difficult. In every choice from small to big, I have done this again and again, following the difficult road signs all the way.

I know that I will grow old eventually, no one can stop this from happening, nor can your love. I will grow old from now on, first quietly, then with great fanfare. Until one day you will be surprised to see me-the person you love will become a different person. We all become different, even though we don't believe it.

Modern society turns vulgar life into a system, into a fashion, into a beautiful picture on a billboard. We were all people who did not want to abide by this system, but we are tired of shouting.

exaggerating the difference between one woman and another is the root of all unhappiness.